Hello,
It's been a long couple of weeks for me. Our family friend of many years is in critical condition fighting for his life right now. He thought he had pneumonia (about 2 weeks ago) and ended up he had heart disease with an enlarged heart. We had no idea. We are still in shock. Everything happened so fast. He is only 35 years old and has a 2 month old baby, a 2 year old baby and a loving wife. He has had surgery after surgery...and miracle after miracle!
We had some horrible news from Brian's brother a couple of days ago that Brian's organs started shutting down, he went to surgery....The doctors said that there was no hope for Brian...that not even a heart transplant will keep him alive. They said there was nothing they could do and that we needed to say our goodbyes. Brian's parents were begging the doctors to save Brian. We all kept praying and not giving up hope....then a miracle happened....some of his organs started to work on there own! Andy (my husband) and I got to see him again a couple days ago...it's very very hard to see our friend this way. He has about 40 tubes, wires hooked up inside his body, lots of machines...the latest surgery that he just had is a machine that acts as his heart and lungs and is pumping through two large tubes going up Brian's leg. Andy and I left the hospital this time feeling somewhat better that at least he has another chance.
After lots of prayer and begging doctors not to give up, they tried one last surgery. This was our last hope. The surgery was about 4 hours long. They hooked up a machine on the outside of his chest that acts as a heart, which when he gets stable the hope is he can be mobile and wait for his new heart donor. Please keep praying especially for his parents, his wife and his two small children. This is very hard on all of us
Yesterday was the last resort surgery. There was some complications. He almost died again...He had blood pooling in his lungs. And lost a ton of blood. It was such a long day of waiting and praying.
I got to talk with Richelle today and we are so hopeful and happy. Brian is stable. Brian is resting after another procedure today, (needed to clear lungs from fluid) they are just waiting for him to recover and be fully stable. He is still sedated. She said that maybe Friday he will be stable enough to be in the database for the new heart. Or his heart could even heal itself....either way we are so happy he is alive and fighting for his life! They are going to start shutting off some of the machines, and the thing that is down his throat (I can't remember the name) might be able to come out when he wakes up. (If he is stable enough) This is a miracle! Brian has brought our friends and family so close, he doesn't even know it but he is touching hundreds if not thousands of lives. We love you Brian! Keep fighting!
If you want to help or send a card you can email me for info. faceonbytamara@yahoo.com
Thank you soooooo much from the bottom of my heart for your concerns and prayers. We are so thankful for all of you praying non stop. His life is in Gods hands. We have witnessed many miracles through this traumatic experience with Brian.
Richelle said he just needs lots of rest and prayers. All we can do now is wait.
We love you Brian, keep fighting! God is with you
Xoxox,
Andy & Tamara
Here are shots of a spur of the moment studio photo shoot I did with them after a bbq at my house.
Brian, Richelle and there first born baby a couple years ago.
They are a beautiful family with another new addition.
I plan on shooting the whole family when Brian gets better!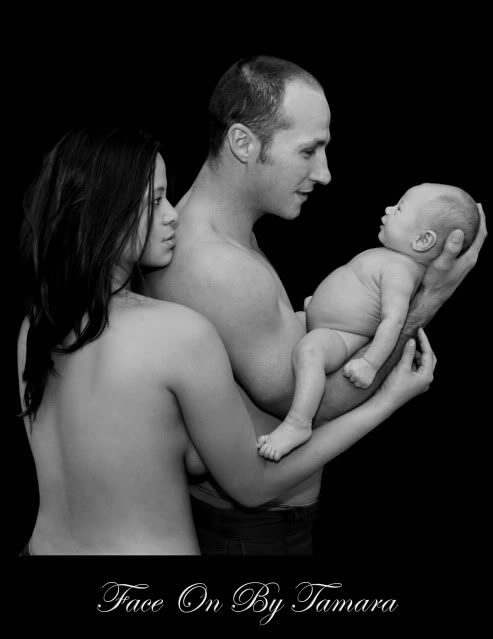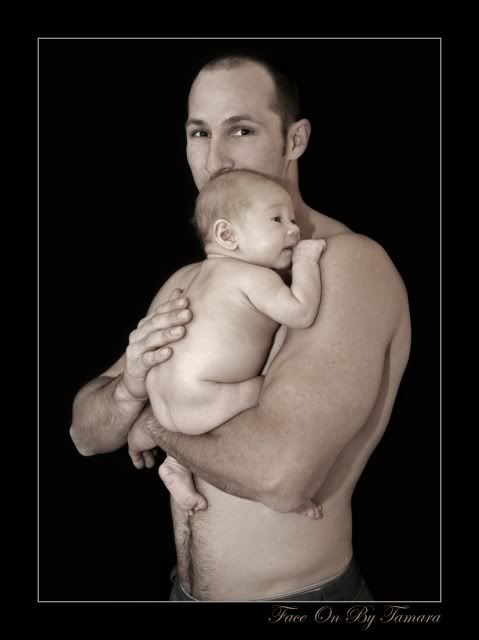 If you want to help or send a card you can email me for info. faceonbytamara@yahoo.com
(All my info is coming from Richelle (Brian's wife)and Brians brother to the best of my memory and knowlegde this is some of the facts and updates about Brian. I don't know medical terms for a lot of what Brian is going through.)
Thank you so much for taking the time to read this and pray for my friend Brian.