Hello! Lots coming up!! If you have any questions or would like to book with me please email me at faceonbytamara@yahoo.com
October:
Get your make up done for a Halloween party!! Only $50.00 which will include- pro make up and fake eyelashes. Special effects makeup is extra.
Oct 24th & 25th- Bishop trip photo shoots!! BOOKING NOW! need all deposits asap to hold your spot
Oct. 29th special BOOKING NOW!
If you can dream it up...i like to make it come true! Look and feel beautiful! Be a fairy, mermaid or a fairy tale with a twist!
Book with a friend and get $50 off!!
NOv 14th= Pin up photo shoot day! Look and feel like a classic pinup!
BOOKING NOW!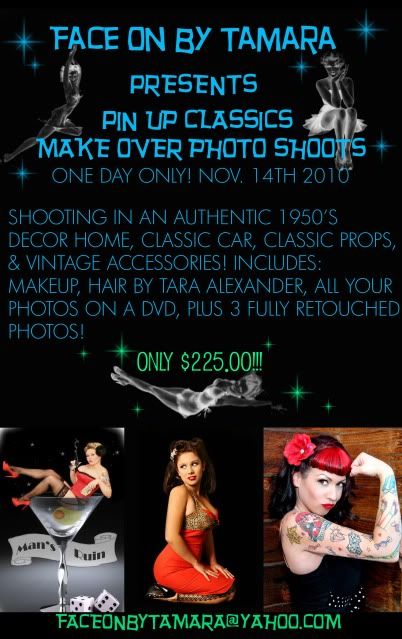 here is a slide show of where we will be shooting, props and the car we have access too that day!
November
Nov. 20th - I will be a guest at Davis School craft fair in Costa Mesa again this year! Come stop be and say hello :) I will be shooting studio photos, selling prints and Christmas special gift certs!
Remember Christmas is around the corner! A make over or make over photo shoot makes a wonderful gift! for any age or gender! I have rad gift certificates :) Email me at faceonbytamara@yahoo for more info.
Thank you so much for your love and support!
Tamara Wroclawsky xo